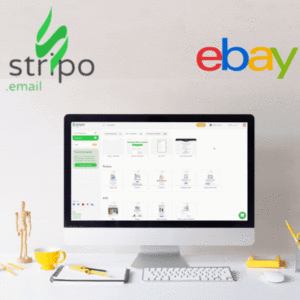 Stripo is an email template builder that enables users to create eye-catching emails from scratch with no coding or graphic design knowledge necessary.
The platform offers a free subscription plan with full access to all of the platform's features, up to 4 monthly exports.
The usefulness of this for eCommerce entrepreneurs is that Stripo designs are able to be exported with clean HTML code which is suitable for use in eBay listings.
You may think that the purpose of having a listing design is just to make products look pretty, but the impact can be far bigger than that. In fact, it can help you sell more, and offer your buyers a better shopping experience.
A great looking eBay listing should be consistent with your branding and tell buyers what you are all about. Professional looking listings can help with:
Repeat business – customers remember who you are and what you sell, so come back more.
Conversion rate and pricing – a seller who looks trustworthy and professional can make more sales and set their prices a little higher.
Cross-selling - adding links to your other products can increase sales.
The templates available here at ToffeePopTemplates are based on Amazon EBC templates which have been shown (according to Amazon) to increase conversion rates by 3-10%
Add your images and text to these layouts, and your eBay listings will stand out of the pack.
How to access your layout templates in Stripo.